Why automate?
Streamline processes, release resources, achieve higher quality and commit fewer errors.
Gain better efficiency and effectiveness
Increase productivity and accelerate time-to-results
Improve customer and employee satisfaction
Enhance compliance
---
Which processes and activities can be automated?
Key characteristics of an automatable process
Repetitive
Standardized
Transactional
Applicable domains
Finance and Accounting | Human Resources | Legal and Compliance | Sales and Marketing | Call Center | others
---
RPA is not a catch-all for all business processes -- not all processes and activities are easily automatable.
Our team of experts will help and guide you in getting the most out of RPA. We help you implement best-practice RPA, selecting the processes and activities that are the most suitable and the most beneficial to automate.
---
What is possible with RPA in the near-future?
Insights by Everest Group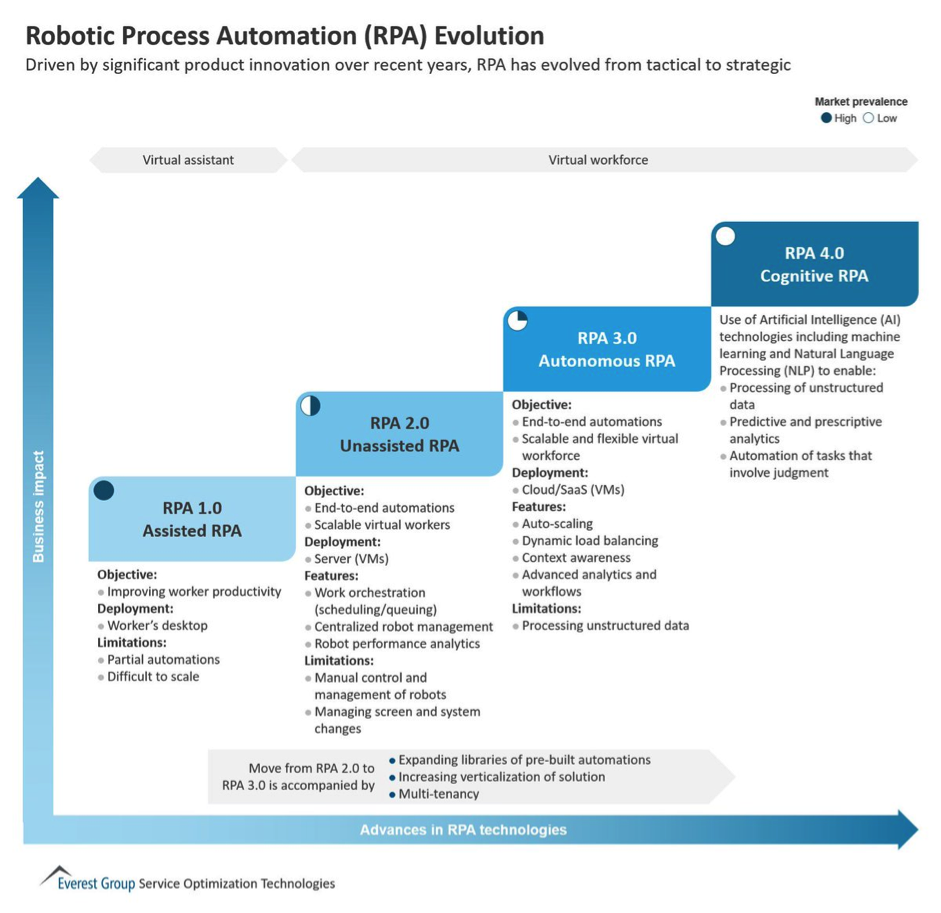 ---
Intelligent Automation
---
Process automation is being redefined with the recent developments and breakthroughs.
Recent advancements in Artificial Intelligence (AI) and Machine Learning (ML) technologies enable solving a new class of complex business problems across the value chain.
Intelligent Automation: RPA + AI/ML
The combination of Robotic Process Automation (RPA), AI and ML can hugely boost process automation with great benefits to the enterprises in terms of costs, productivity, efficiency and effectiveness.
---
What can Intelligent Automation do for you?
Sales and Marketing: Price Optimization, Forecasting, Lead Scoring, Upselling and Cross-Selling
Finance and Accounting: Accounts Payable and Receivable Processing, Expense Management, Decisions Intelligence, Validate Transactions, and Audits
Logistics, Supply Chain and Transporation: Warehouse Location, Real-time Decision Making to issues of availability, costs, inventories, carriers, vehicles and personnel; On-Time In-Full Delivery Performance, Demand Planning, etc.
and many others.